San Diego Keratoconus Clinic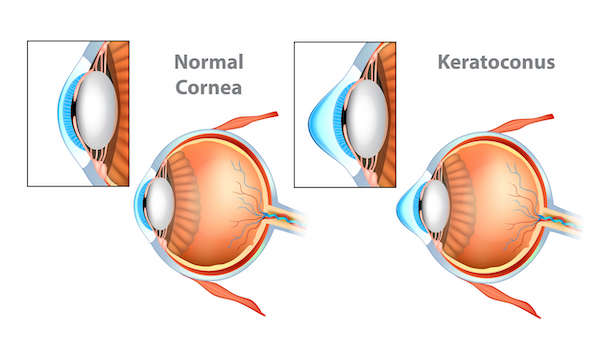 Over one hundred eye doctors throughout San Diego, Southern California, and nationwide have referred their keratoconus patients to the Keratoconus Clinic at EyeLux Optometry for specialist treatments and care. That's why EyeLux Optometry cares for more keratoconus patients in a week than most practices serve in an entire year.
EyeLux Optometry's keratoconus treatment referral clinic uses state-of-the-art technology including corneal topography and external digital ocular photography. We have an extensive inventory of diagnostic contacts lenses — including scleral contact lenses, corneal gas permeable contact lenses, SynergEyes hybrid lenses, custom keratoconic soft lenses, and piggyback lenses — allowing medically-necessary contact lens prescribing according to what is best for your individual situation. Most of our patients with keratoconus are able to obtain desirable outcomes with non-surgical treatment.
What is keratoconus?
Keratoconus is a disease where the cornea — the clear front of the eye — becomes progressively distorted. A normal cornea is spherical in shape, like a ball. Keratoconus causes the cornea to bulge forward, protruding into a cone shape. This shape distorts the rays of light passing through the cornea. The rays are unable to meet at a clear point of focus on the retina, resulting in blurry vision.
Nearsightedness and astigmatism are common with keratoconus, as are glare and light sensitivity. Keratoconus patients often require prescription changes each time they visit their eyecare practitioner, especially during progression of the disease.
Keratoconus causes: When and in whom does this condition occur?
Often beginning in teens, keratoconus usually progresses into the 20s or 30s before stabilizing on its own. In severe cases, the cornea continues to thin and bulge outward, creating even greater blurred vision. Scarring of the cornea can spontaneously develop.
More than 1 in 1,800 people have keratoconus, according to researchers. In ten percent of cases, patients report a family member who has keratoconus, but keratoconus has no race or gender correlation. Many keratoconus patients also suffer from hayfever, eczema and asthma.
Some researchers feel that eye rubbing may increase the progression of keratoconus. Although it hasn't been proven that eye rubbing exacerbates keratoconus, it is still a good idea to refrain from rubbing your eyes. Your eye doctor at EyeLux Optometry may prescribe eye drops to minimize eye itching symptoms.
What keratoconus treatments are available?
In mild cases of keratoconus, eyeglasses and soft contact lenses can provide adequate vision. But in more advanced cases, most keratoconus patients will require custom-made gas permeable (GP) contact lenses. It's essential to have properly prescribed custom contact lenses. This is critical not only for optimal vision, comfort, and eye health; but poorly-prescribed lenses can increase the risk of corneal abrasions, scarring, and infection.
Keratoconus surgery may be necessary in severe and advanced cases; published reports say that 10-20% of keratoconus patients get corneal transplants. If our examination reveals that you have significant scarring of the cornea, your doctor may recommend a corneal transplant. In this procedure, the scarred tissue is replaced with a section of donated cornea that is clear. Although most corneal transplants are successful, the majority of patients afterwards still need glasses, soft contacts, or GP lenses for adequate vision.
What kind of contact lenses can help someone with keratoconus?
Rigid gas permeable (GP) contact lenses are commonly prescribed, with the large-diameter scleral lenses accommodating a large number of keratoconus patients. Rigid surface contact lenses provide a smooth, artificial surface to mask the "peaks and valleys" of the keratoconic cornea, in turn providing the best vision. The keratoconus clinic at EyeLux Optometry uses a variety of lens designs, and the best contact lens for you will be determined following a complete evaluation.
Do I need a referral in order to visit the EyeLux Optometry keratoconus clinic?
No. Doctors from around the state of California refer keratoconus patients to the keratoconus clinic at EyeLux Optometry, but you may contact us directly. Your first step will be a complete eye examination and evaluation. Please tell our staff that you have keratoconus when scheduling your first appointment.
Can I get LASIK if I have keratoconus?
LASIK and other laser eye surgeries are not appropriate for keratoconus patients due to an unacceptable risk of a poor outcome. The LASIK procedures remove corneal tissue, and because in keratoconus patients the cornea is already thin and weak, LASIK can irreversibly destabilize the cornea and accelerate its distortion.
What's new in keratoconus treatment?
Scleral lenses are arguably the most significant technological advancement in keratoconus treatments. Scleral lenses are large-diameter rigid contact lenses, typically the size of a nickel to quarter. These specialty lenses rest on the white part of the eye, or sclera, and trap a fluid cushion between the cornea and contact lens, providing a smooth, artificial front surface to bend light. When prescribed properly, these lenses are surprisingly comfortable because they rest on the relatively insensitive white part of the eye rather than the cornea, yet the provide exceptional rigid-quality vision. Most eye doctors do not routinely prescribe scleral lenses but refer their patients that benefit from them to clinics like ours. While scleral lenses have existed for a while, only more recent technological advances have made these designs available through clinics like EyeLux Optometry. We are routinely able to help keratoconus patients avoid risky eye surgery by prescribing scleral contact lenses.
In addition to scleral lenses, others with keratoconus benefit from the new-generation of hybrid contact lenses which have a rigid center but soft outer skirt. The SynergEyes ClearKone hybrid contact lens, was introduced in 2009. EyeLux Optometry's ClearKone can demonstrably improve visual acuity and lens-wearing comfort for select keratoconus patients. In 2013, a higher oxygen permeable version of this lens, SynergEyes UltraHealth, was introduced. UltraHealth uses a soft skirt material called a silicone-hydrogel which permits greater oxygen supply to the eye. EyeLux Optometry is one of the first practices in the U.S. to offer this lens for selected cases of keratoconus treatements.
EyeLux Optometry also prescribes special soft contact lenses for various keratoconus treatments including KeraSoft IC and NovaKone. These lenses are thicker-than-normal lenses which help minimize the irregular eye surface of keratoconus.
Specialty contact lenses are the first-line treatment of choice for keratoconus, but for some patients keratoconus surgery may be needed. A small number of keratoconus patients get corneal transplants, but this is a last resort. An alternative to transplants is Intacs® prescription inserts, also known as intrastromal corneal ring segment implantation. Intacs are generally an option when a wearer cannot tolerate GP lenses, but the keratoconus has not progressed to the point of needing a transplant. Glasses or contacts may still be needed after such a procedure; but soft contact lenses might provide acceptable vision in these circumstances, avoiding GP contact lenses.
Corneal cross-linking is another new surgical procedure for slowing or halting progressive keratoconus. In this procedure, riboflavin and ultraviolet irradiation are used to strengthen the cornea. Since keratoconus arrests on its own by the third to fourth decade of life, the greatest value of corneal cross-linking may be for those under age 30. It is important to understand that while corneal cross-linking can reduce some corneal distortion, the vast majority still require special contact lenses afterwards to achieve the best vision.
We can advise you if any of these keratoconus treatments are appropriate for your individual circumstances. Because there is tremendous variability in the severity of keratoconus from one person to another, and even from one eye to another, there is no single treatment which is appropriate for every patient with keratoconus.