Are You Cleaning Your Glasses the Right Way?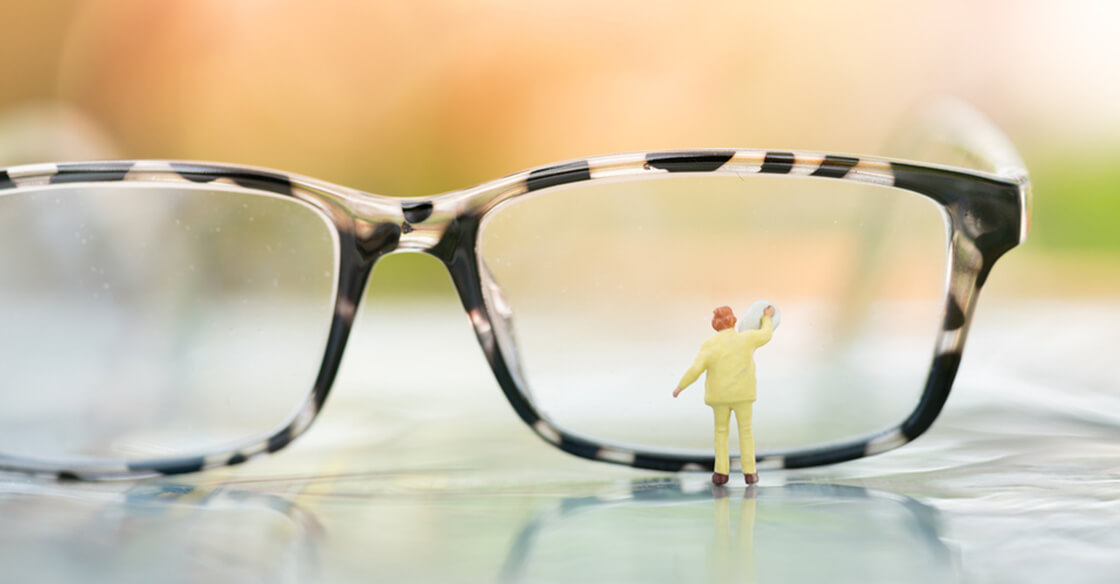 Glasses can be a real pain to keep clean, especially because the tiniest speck of dust is right before our eyes. Moreover, when we accidentally touch the lenses without our fingers we leave a smear behind. Often we reach for a soft cloth to clean but this just makes it worse. We decided to share a few opticians' secrets, so you should never have this problem ever again.
Steps to Cleaning Glasses the Right Way
1. First, wash your hands thoroughly in dishwashing liquid or lotion-free soap. You want to remove dirt and body moisture, not add more grease. This step is important, so take your time. Then dry your hands with a clean, lint-free towel after giving it a good shake to remove dust from ironing.
2. Next, run a gentle stream of warm tap water over your lenses, turning them this way and that to make sure you wash away every scrap of loose dirt. This is vital to avoid scratching the lenses. Never use hot water to do this. You could damage a coating or cause a plastic frame to discolor.
3. Now drop a very small amount of lotion-free dishwashing liquid on one side of each lens. Wipe your index finger across the pouring spout to moisten it. Rub your finger over each lens with a gentle, rotating motion. Then turn the glasses over, to do the other side of the lenses the same way.
4. Your glasses will be a little slippery now. You don't want to drop them and possibly scratch the lenses. Therefore, place them on a plate or small tray, and carry them back to the sink. Then rinse them thoroughly under lukewarm water, until not a spot of soap remains on the lenses or your hands.
5. Now, shake your glasses gently, but thoroughly. You want to get rid of as much water as possible at this stage so the lenses dry quickly. Before actually drying them, hold them up to the light to make sure no dirt or grease remains behind. If you find any, repeat the entire process to this point.
6. When fully satisfied, you should be able to dry the lenses and frames gently. Use a dishtowel or microfiber towel that has never been near fabric softener after making sure it is perfectly clean. Anything trapped in the fibers can scratch your lenses.
There is no satisfactory way to 'cure' scratches permanently. These are a real nuisance as they reflect light. The best workaround is to specify a durable anti-scratch coating. Keep your glasses in their case when not in use, and avoid using paper towels, napkins or your shirt to buff the lenses. Once in awhile (when you visit your optometrist for your yearly exam, for instance), have your eyeglasses professionally cleaned. This will ensure the frame and nose pad get a good wash as well.
EyeLux Optometry. Quality services. For your eyes only.
Schedule an Appointment